AI training, inference and analytics
Cut the learning curve and integration effort
Run smart and fast at reduced costs with Scarlet Platform
AI training/inference of TensorFlow and PyTorch models in the cloud
Multi-source analysis, search and notifications, labeling, duplicate management…
Scarlet AI
inference and analytics
Scarlet AI training
inference and analytics
Easy deployment in your own AWS private cloud environment.
No data sharing. Subscription or hourly usage-based pricing.
Craft your AI and data strategy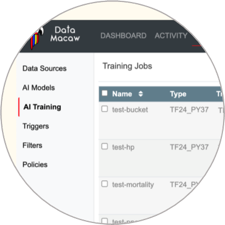 Train and visualize TensorFlow and PyTorch AI models with ease and flexibility. Simply upload your training scripts to the platform and create training jobs that are automatically managed. With one click, you can export your trained models for inference.
It supports scheduling, multiple run history, instance type choice, per run visualization and cost/saving estimates.
Unlock the value of your unstructured data
We combine powerful integration and intelligent resource management to give you high performance at low running cost
TESTIMONIALS
It is a very impressive product, Scarlet did analyze my S3 buckets and present very coherently. The UI is very polished and easy to get around.
Jason Bloomstein
Founder at Thunder Technologies LLC